The casino genre is a major earner in the mobile gaming market. Since the beginning of the pandemic, casino games have experienced a leap in growth with total revenue expected to reach $8.7 billion by 2026. It comes as no surprise, then, that a few new faces have surfaced in the market. With shifting consumer preferences, evolving privacy policies, and heightened competition to grab market share, lets take a look at how casino game developers are adapting and monetizing. According to Sensor Tower, downloads of casino games dropped by 27 percent in 2021 compared to the year prior. However, revenue still grew by 8 percent, demonstrating the continued high upside in monetization in this category. In 2021, slots was the most common subgenre at 40.4 percent of all casino games; poker and bingo games also took up a significant share of the market.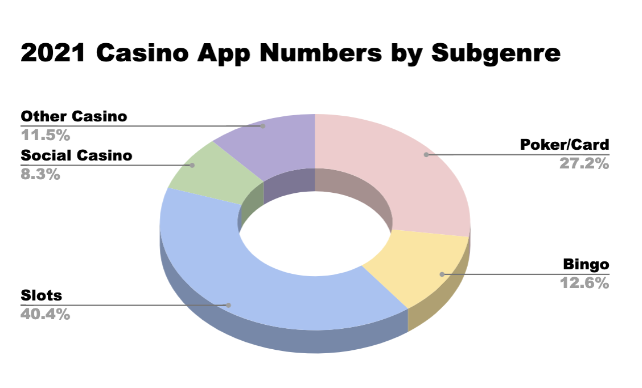 Slots games outperformed other subgenres in user downloads and revenue by wide margins. Social casino games including games such as Coin Master pulled in the second most revenue. Meanwhile, poker games were the second most downloaded.

North America and Asia demonstrated the strongest user payment ability North America alone contributed 68.1 percent of revenue in casino. Slots was the most popular subgenre in North America and had a near-monopoly in Oceania with 84 percent of the regions total casino gaming revenue. Asia, Europe, and South America accounted for the most downloads of casino games. Poker was the most popular casino subgenre in Asia, the Middle East, and Europe.
Globally, Playtika created the most downloaded games and brought in the most revenue in the slots subgenre, though mid-tail developers still had their opportunities at market share. The slots market was dominated by in-app ad (IAA) monetization, with 70 percent of games opting for that model.Teen Patti a card game popular in South Asia ranked first in downloads, increasing by 21 percent over the prior year; however, its revenue ranked outside of the top 20. Revenue in the poker subgenre was dominated by Playtika and Zynga games. Eighty-two percent of the top poker games were monetized through IAA.Bingo Blitz (Playtika) took the top spot in both downloads and revenue for bingo games. Eighty-two percent of the top bingo games were monetized using IAA.Overall, 75 percent of casino games are monetized using IAA as a new revenue growth point.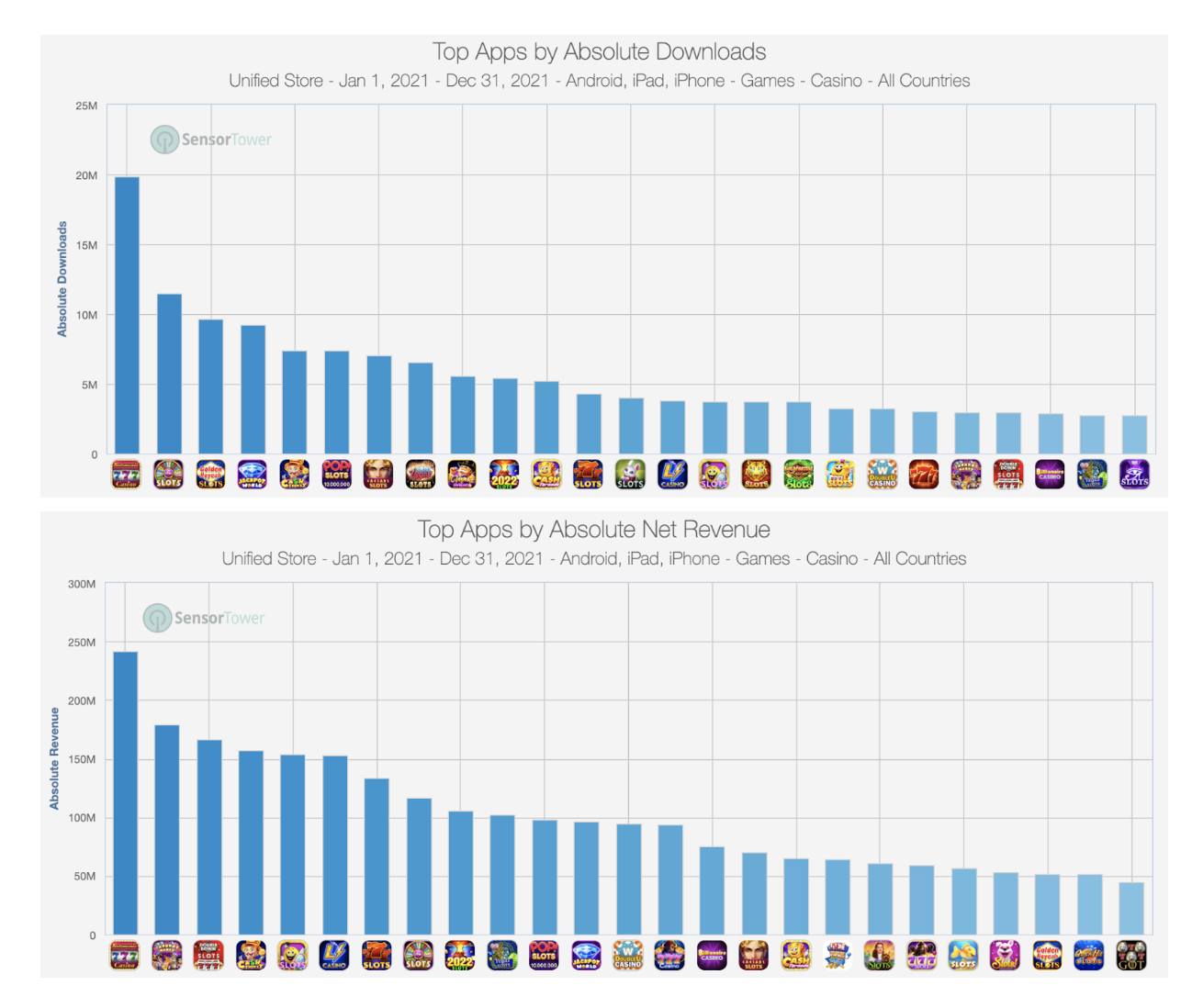 In 2021, in-app purchases (IAP) accounted for 76 percent of revenue in Casino games. IAA revenue accounted for 24 percent, an increase of 21 percent from 2020.Chartboost performance in Casino game monetizationAccording to Chartboost data collected from 2021 to Q1 2022, the highest eCPM average in iOS rewarded video comes from North America at nearly $35. Average eCPM in Australia is $25, followed by Europe at $20. Apples privacy policy started eCPM on iOS with a clear downward trend in Q2 2021, though it rebounded in Q4 and stabilized thereafter.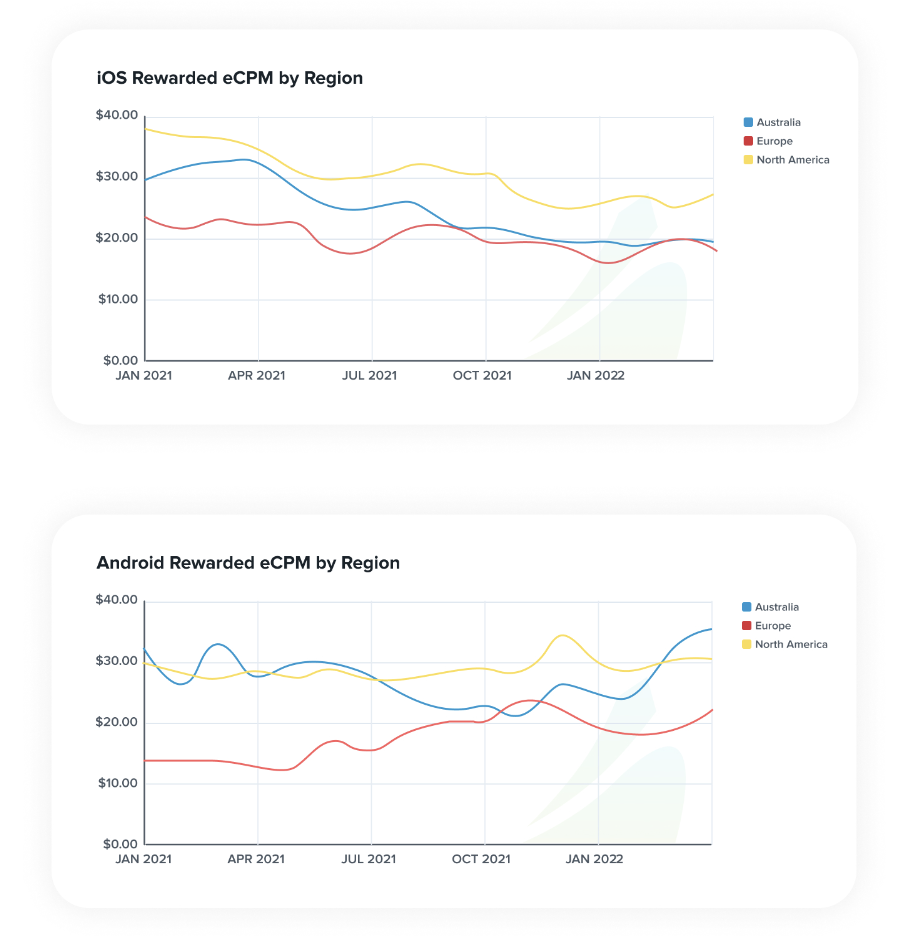 As some developers and marketers shifted their budgets after Q2 2021, we saw an increase in eCPM for rewarded video on Android. In North America and Australia, eCPM for rewarded video on Android is comparable at an average of $30, followed by Europe at $20.Interstitial ads trended similarly to that of rewarded video. The average eCPM for interstitial ads on Android is the highest in Australia at $18 (USD), followed by North America at $ 15 (USD) and Europe at $8 (USD) .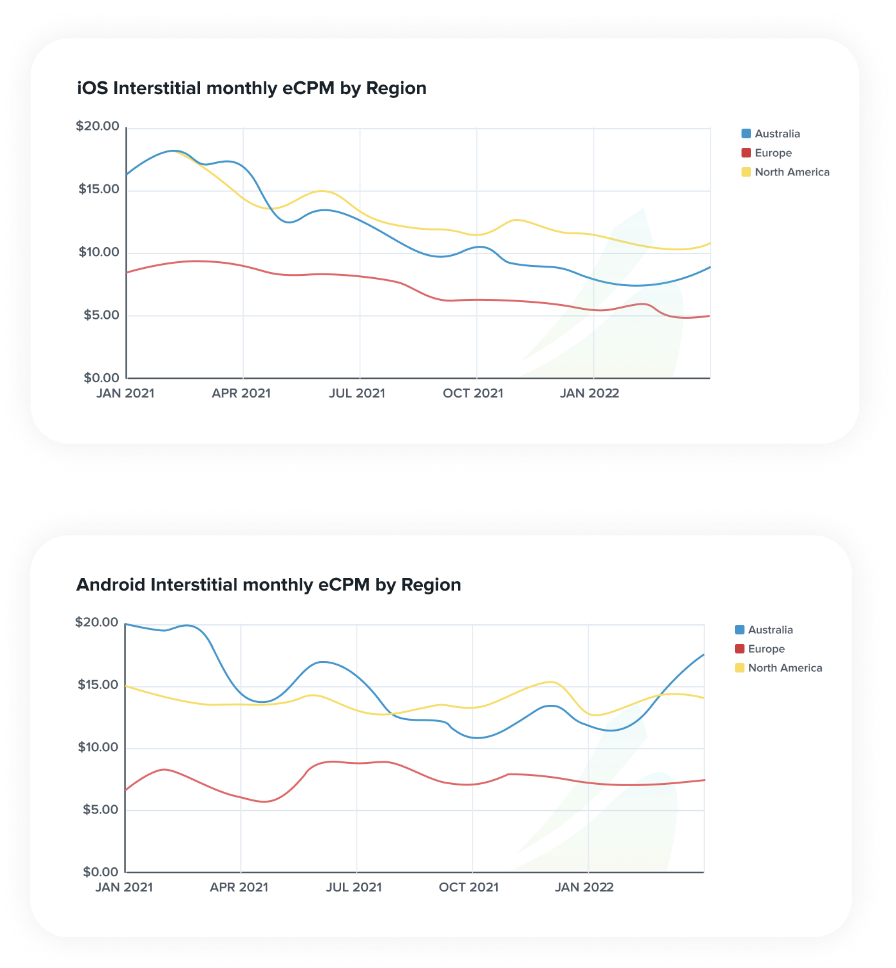 In all, due to its experience and expertise in the genre, Chartboost remains very competitive in the casino market. It even outperforms several competitors, which is not a new phenomenon.
Why is IAA important for casino games?
For casino publishers, the benefits of IAA are obvious. Primarily, IAA can keep players more engaged and in the app longer. For example, when players use up their coins in a slot game, rewarded video ads help keep them playing.IAA is also effective in increasing IAP revenue. Once a player has experienced the benefit of earning coins or an extra-life to pass a level, he or she is more likely to pay again in the future.For a casino developer to build its IAA monetization model, it must choose the right ad formats. Right can vary depending on the difficulty of the game. Rewarded videos tend to be more suitable for high-difficulty games as users often are more willing to watch rewarded ads to get coins and continue playing. Interstitial ads tend to be the right choice for easier games. Publishers can perform A/B tests to balance the total revenue and interstitial ads SOV and even offer an ad-free subscription plan.Publishers also must evaluate proper entry points, especially for interstitial ads.

The golden rule is to never disturb gameplay and keep ad frequency low, particularly if you begin receiving negative feedback from users.Of course, measuring and optimizing revenue performance is critical. Publishers will do well to seek ad networks that specialize in casino games, such as Helium by Chartboost. Helium is a hybrid mediation solution that offers higher eCPM with support for impression-level ad revenue data across all ad units and ad networks in real time. If youre interested in more market data, check out our 2022 casual game market trends and observations.