In recent years, brands in various industries such as fashion, e-commerce, and travel have explored new opportunities to reach their audience. This has led them to tap into mobile game ad inventory.
The mobile game advertising ecosystem was originally designed for user acquisition campaigns. Targeting algorithms, creative ideation, production, optimization, and measurement frameworks were all built for these performance campaigns.
While this focus has led to significant mobile game ad revenue growth, it has also "locked out" brands from realizing their full potential.
The brand's perspective
A sizable portion of the world's largest advertising budgets is allocated to brand campaigns that target delayed response. In other words, they rely on brand awareness and recall rather than direct response from consumers.
These budgets traditionally have been deployed on brand-awareness channels such as TV and offline advertising (e.g., billboards), as well as various display channels on the web.
Context is crucial to the success of brand campaigns, including where ads appear and who an audience includes. A perfect example of contextual targeting is when TV ad space is chosen from a show that attracts the same demographic as the brand's audience.
When planning brand campaigns, this demographic data is key.
In the mobile game ad space, however, that kind of data isn't always accessible to brand advertising teams. It's then difficult to apply tested frameworks in mobile games.
To get around this problem, brands and mobile game publishers have set up manual, direct-sold inventory and brand partnerships. This has given brands the data and control they need.
Fortunately, the industry has evolved. More and more brands are tapping into programmatic media buying to scale their campaigns.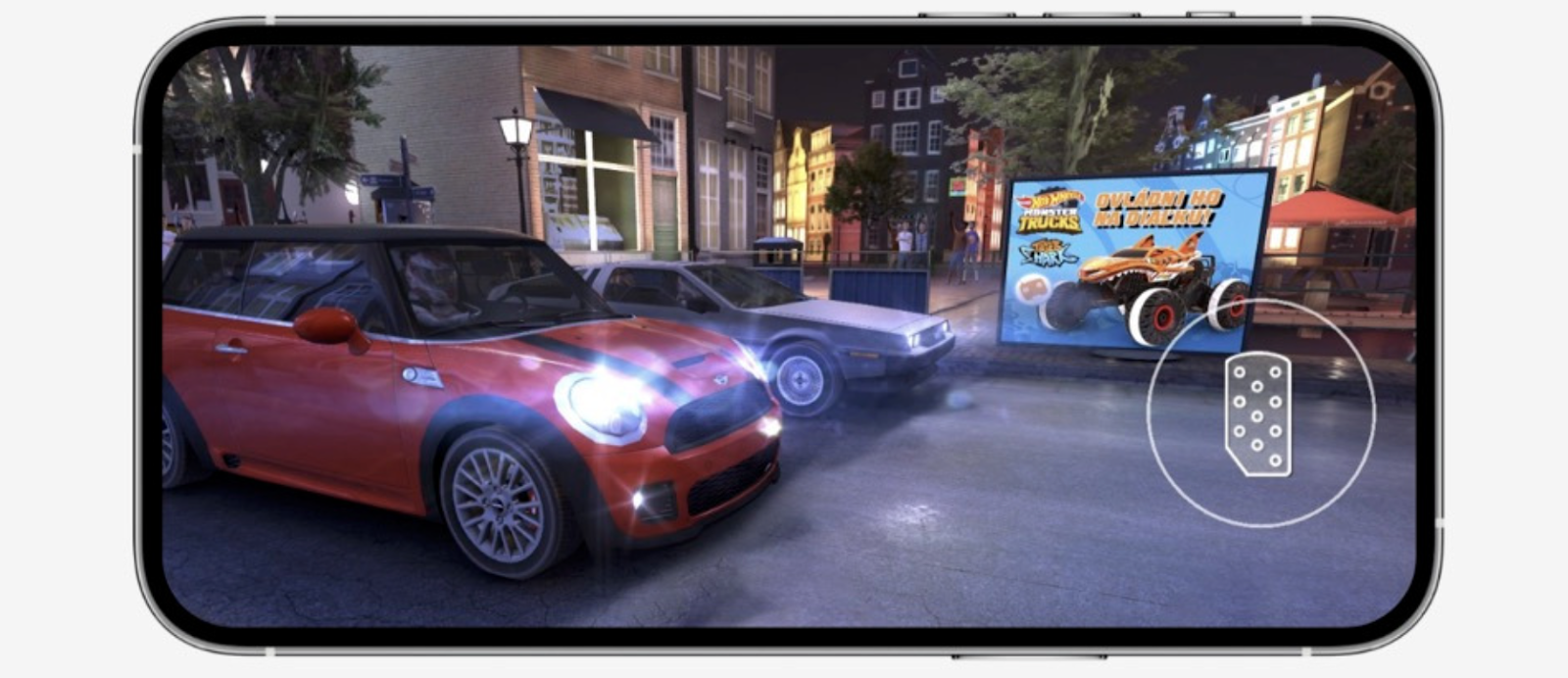 Mobile game advertising is evolving
A few things need to be addressed for brands to advertise in mobile games:
Providing the necessary data. Demographic data is required for brands to understand the audience playing the game. Brand campaigns don't target direct-response ROAS (return on ad spend); they simply need to understand whether their ads are getting in front of the right audience.
Doubling down on accepted viewability metrics and safety. Brands care about safety, fraud, and viewability. If mobile game publishers grant them the control they need to fight fraud, to see exactly where their ads are being shown, and to use the viewability frameworks that they are accustomed to (with metrics they know and trust), brand advertising teams would trust the mobile game channel.
Brand-oriented campaign measurement. Again, brand campaigns aren't generally intended for direct-response. They can't be measured by direct ROAS because there is no "download" call-to-action and no app they are looking to monetize through in-app purchase or in-app-advertising. Instead, brand campaigns are measured over time by brand recall, branded search, revenues, and more. Brands need to understand where their ads are shown geographically and the exact time they were shown. This might include measuring the effect of a TV ad on branded search during and after the ad was run.
It is absolutely critical to provide this data to measure in-game brand ad campaigns.
This will be the year brands unlock their biggest opportunity to reach audiences using contextual targeting through programmatic advertising within mobile games.
Why you can't ignore this trend (brands and mobile game publishers alike)
Let's go over the main factors driving this change.
The way entertainment is consumed has changed, and attention has shifted accordingly.
Entertainment content in all forms has always attracted advertising dollars. Linear TV has given way to streaming services such as Netflix. Over the last decade, the number of people playing mobile games has grown to approximately 3 billion worldwide.
And mobile game download growth shows no signs of stopping.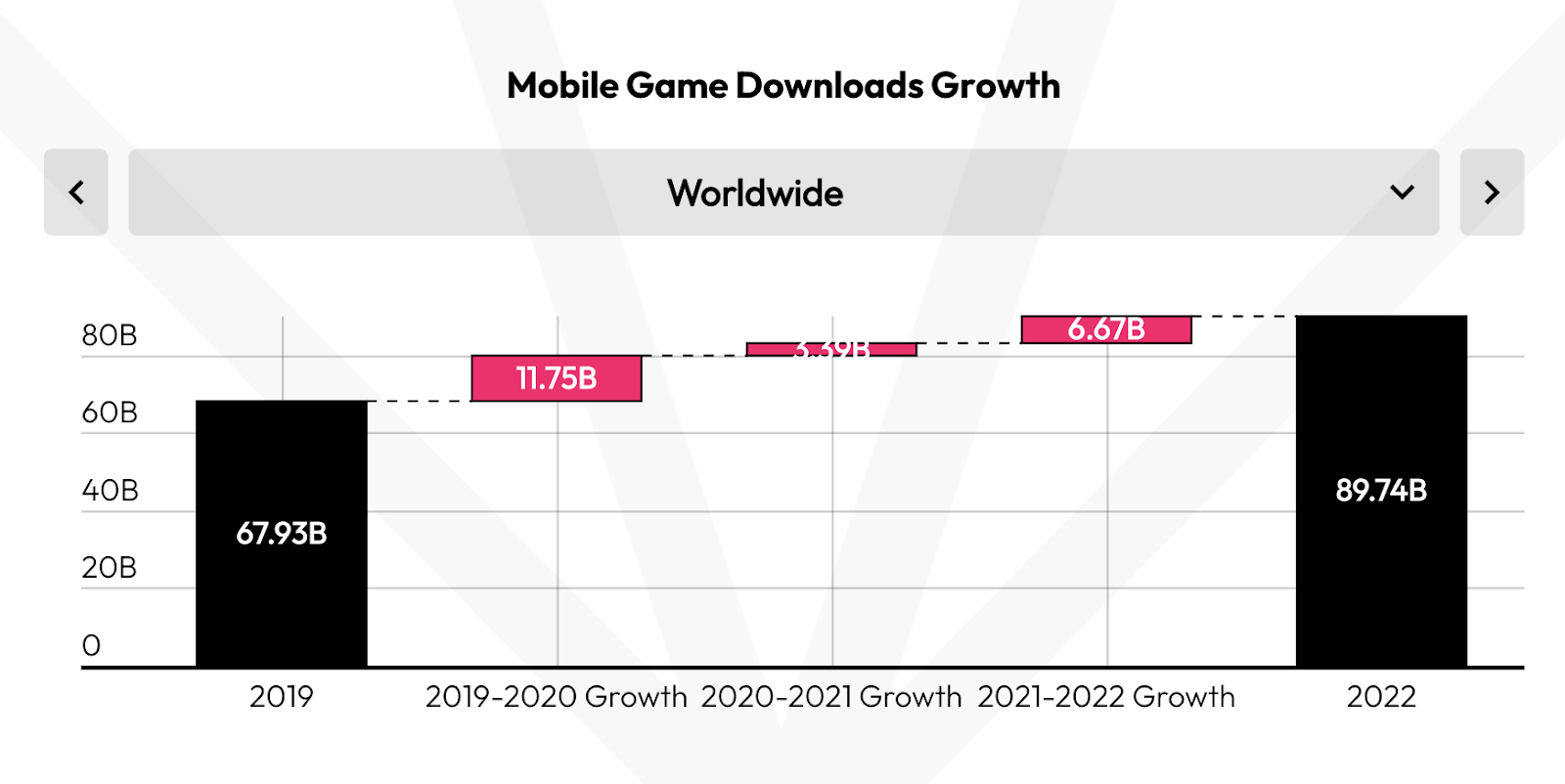 This dramatic shift in the way entertainment is consumed presents a significant opportunity. To no one's surprise, Netflix created an ad-based plan to allow advertisers to target specific Netflix shows with ads.
Now consider those 3 billion mobile players. Mobile games are accounting for a larger share of available impressions.
For a business that wants to increase its brand awareness and affinity, choosing not to advertise on mobile games locks them out from a sizable chunk of the places their audience can be reached with brand messaging.
‍Contextual advertising works perfectly with mobile games.
One of the most interesting things about gaming (and probably its oldest misconception) is that its audience represents a very specific part of society.
The charts beneath, courtesy of data.ai, show that mobile games are played by all age groups and genders.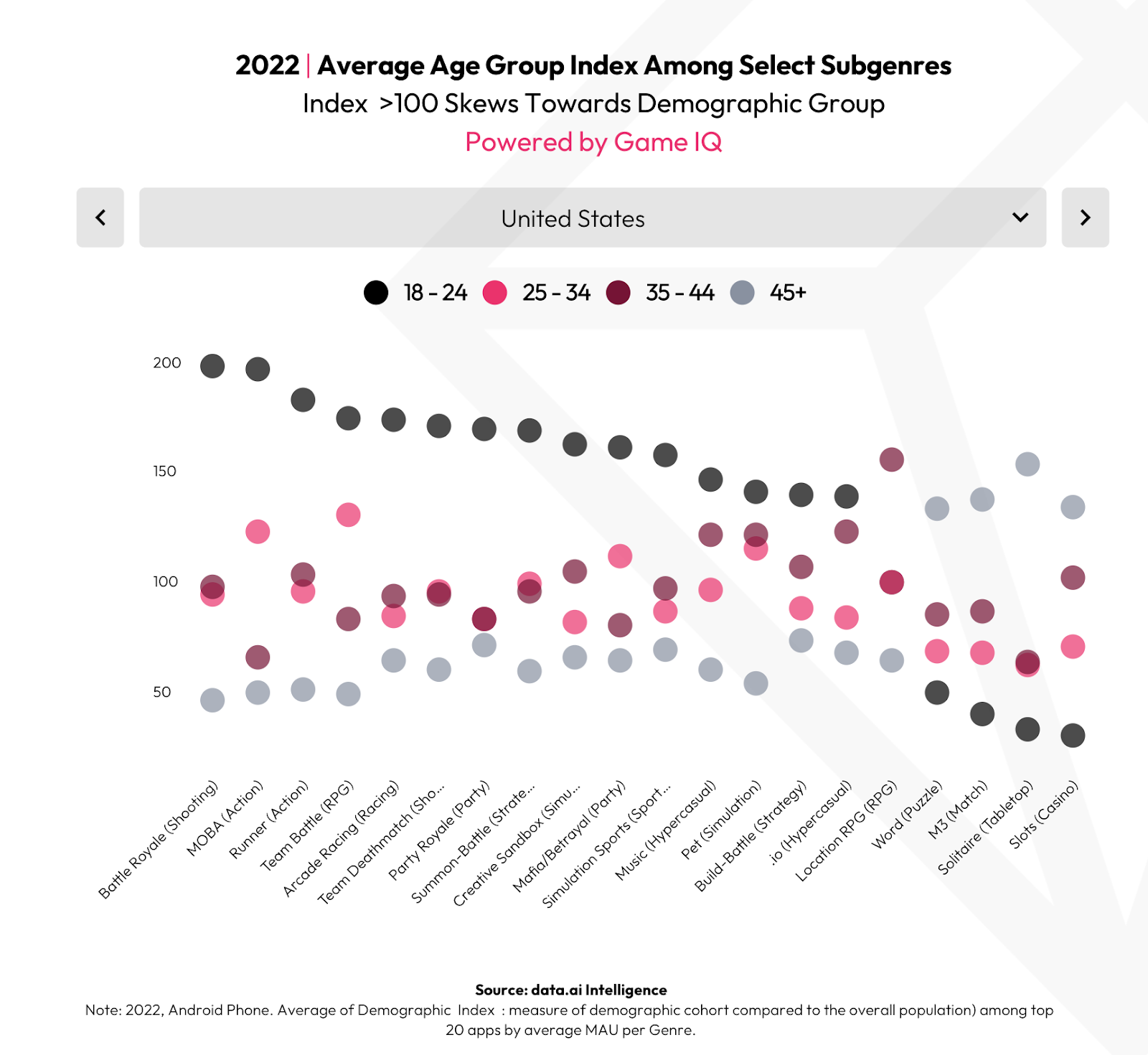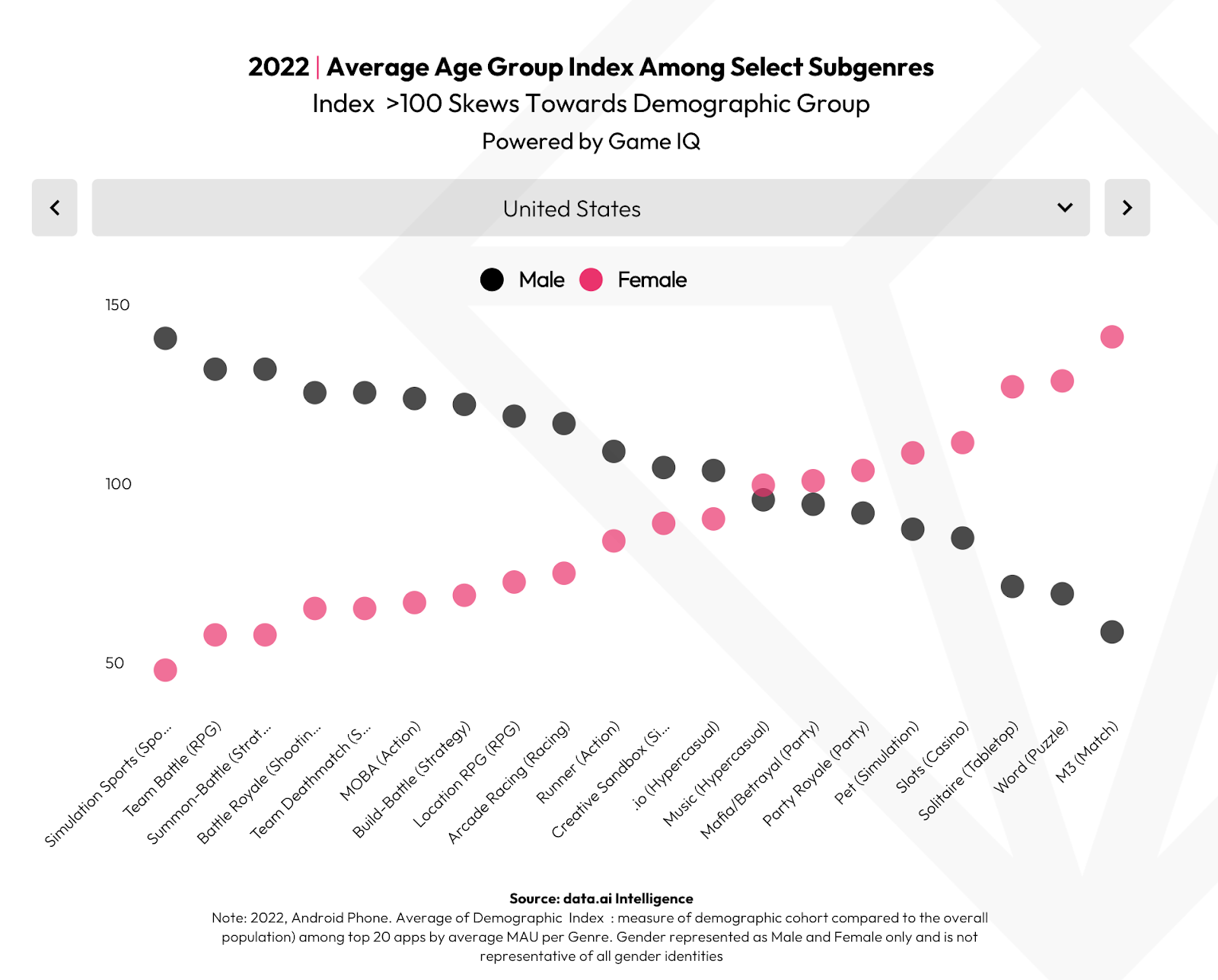 One of the most interesting data points is the variance in demographics playing different genres and subgenres.
If the goal of a brand campaign is to target ads based on context, using mobile game genres as a targeting strategy can help reach any audience, no matter who they are.
Want to reach females over 45? Advertise in match-3 games. Targeting younger males? Deploy your campaign in sports simulations.
You get the idea.
Furthermore, specific games provide an additional layer of context. Each game in each genre has a theme that could make ad placement even more powerful. For instance, car brands often advertise in car racing games.
‍Mobile game publishers greatly benefit from brand dollars competing with performance dollars for ad inventory.
For mobile game publishers, attracting brand advertising dollars is crucial, particularly when performance dollars are under pressure.
It reduces the risk of your monetization strategy being too closely connected to monthly changes in the performance advertising market.
And if you can provide brand advertisers with the right data, you'll generate higher ad revenues. Since brand budgets are not strictly measured by direct ROAS goals, you gain more flexibility.
How can you get started?
Great partnerships drive successful KPI performance in this ecosystem, for brands and mobile game publishers.
Monetization partners should offer integrations with brand demand sources with plans for future expansion.
Brands should seek demand partners that provide the audience data they need, enable brand safety and viewability metrics, and support them in measuring their campaigns.
If you'd like to get started, chat with us to learn how Chartboost makes an excellent brand advertising partner.