We're experiencing turbulent economic times. Amidst global inflation and the specter of recession, economists worldwide are struggling to make sense of the financial situation. As former Treasury Secretary Larry Summers told Bloomberg in early February 2023:
"It's as difficult as an economy to read as I can remember."
Despite the challenging economic climate, global mobile ad spend continues to rise. According to the 2023 "State of Mobile" report by data.ai, it reached $336 billion in 2022 and is projected to trend up an estimated $362 billion in 2023.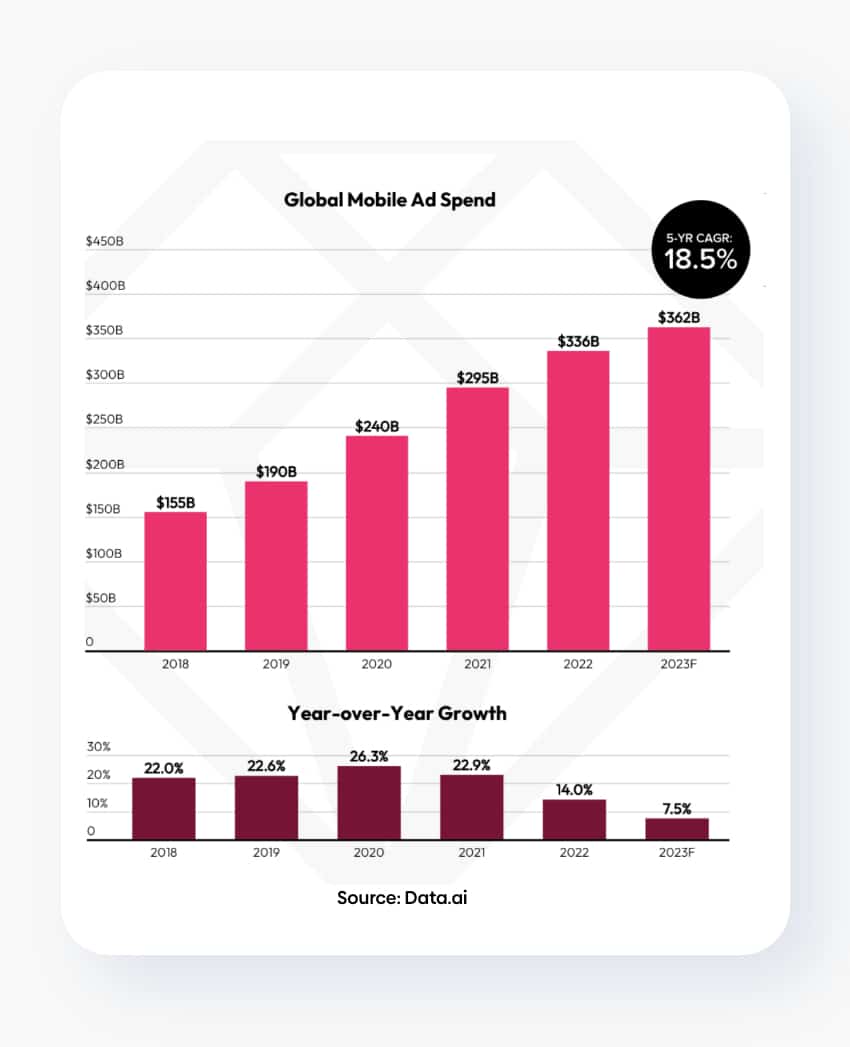 While global mobile ad spend made steady gains each year from 2018 to 2020 (22% to 22.6% to 26.3%, respectively), growth has slowed in the years since (see chart above). This deceleration is expected to continue in 2023 due to various factors including privacy related changes driven by Apple's ATT framework and the deprecation of the IDFA. Google plans to follow suit with its own privacy guidelines for Google Play and Android.
Against this landscape, it's no surprise that mobile game developers are on the hunt for alternative monetization strategies.
‍The shift to in-app advertising amid declining LTVs
Developers are increasingly relying on in-app advertising (IAA) to monetize, even if they previously relied only on in-app purchases (IAP).
Privacy challenges and economic conditions have made it challenging to acquire high-value users and generate high lifetime value (LTV) from them. In the pre-ATT era, user graphs and targeted advertising were more readily available through self-attributing networks (SANs) such as Meta.
One way to counteract the decline in LTV is to implement a hybrid monetization model that combines IAA and IAP. Despite challenges faced by developers, global mobile ad spend is still growing — estimated at 14% in 2022 and 7% in 2023, according to data.ai. Therefore, it's becoming increasingly important for game developers to consider their mobile game ad monetization strategy more carefully to maximize their revenue.
‍Unlocking lost potential: How current mediation platforms are leaving money on the table
Mobile game ad monetization experienced several cycles of evolution over the last few years, but one key element of every mobile game ad monetization stack is the mediation layer.
(For a refresher on mediation and how it works, start here.)
In the current landscape, ad mediation is a black box. Visibility is elusive to those using it, as is how ads are placed, priced, sold, and optimized within a mobile game.
There's very little transparency for game publishers when it comes to:
How auctions are handled and the logic used
Which demand sources participate in each auction
Whether the playing field is tilted by commercial deals between mediation platforms and demand sources
Let's take a step back for a sec.
Think about what usually drives performance for mobile game publishers via their mediation SDK to ensure they're maximizing ad revenues.
Several drivers come to mind. Support for:
All major ad formats
Network bidding and access to premium in-app bidding demand sources
Unified auctions that are fair with optics into bid-level reporting for validation
Mediation-related decisions with access to extensive granular reporting
Access to all demand sources through seamless integration
But what happens when mediation partners favor their own demand?
Publishers lose control. You rely too heavily on a single partner with conflicting interests to control both mediation and a sizable chunk of your monetization.
At a time when game publishers are defending revenue by using IAA to supplement IAP, the business risk becomes even more prominent.
There are going to be winners and losers.
If your mediation technology and SDK isn't unbiased and transparent, you're simply leaving money on the table.
‍The solution: A world-class monetization stack that ensures trust and transparency
Let's look at a modern monetization stack that would allow you to maximize your ad revenues.
In simple terms, a publisher's stack should provide a fair ecosystem with logic in which all demand sources are invited to bid as you configure. You should have access to transparent data to glean valuable insights into ad performance and receive clear information about which demand sources win impressions and why.
A world-class monetization stack should look something like this:
As you can see, it's made up of several important layers, including:
Layer 1: SDK stability
Everything is built on this layer. With IAA generating a significant portion of revenue, SDK stability is crucial to avoid losses. Higher-than-acceptable crash rates and/or not-responding rates lead to millions in lost revenues over time.
‍Layer 2: Developer tools
The tools necessary to develop and test the monetization stack reside on this layer. Open source adapters allow for the leveraging of any ad network that a publisher's stack doesn't support, waterfall testing, and robust logging for debugging to pinpoint issues.
‍Layer 3: Premium demand sources
Here, access to bidding networks, waterfall networks, prebid networks, and direct-sold ads helps maximize revenue by accessing the most efficient auction.
‍Layer 4: Unbiased mediation SDK
None of the above allows maximum eCPMs and ad revenues unless this mediation layer is unbiased in which no ulterior motives influence who inventory gets sold to. Only fair logic and a fair ecosystem pave the way for sales to the true highest bidder.
‍Layer 5: Robust auction capabilities
Publishers must manage both their waterfall (dynamically and automatically managing line-items to maximize eCPMs) and set up their in-app bidding to run a unified auction. This ensures the highest bidder always wins with the best price from both auction types chosen.
‍Layer 6: Decision making, optimization, and management
Access to relevant data is crucial for making informed decisions and maximizing ad revenues. This includes bidding performance data, waterfall performance data, impression-level revenue data (where possible), real-time reporting data, bid distribution, ad lifecycle & load metrics, and auction insights.
Keyword targeting and eCPM floors are also critical, as is custom reporting, a reporting API to ingest data into your analysis, and a visualization tool of choice.
‍To win in 2023, don't get trapped in a black box
Transparency and data access are critical components of a successful monetization stack. Without them, making informed decisions is challenging, leaving you at a disadvantage. Leveraging the right tools and technology will help you maximize your eCPMs and ad revenues, even during uncertain times.
Ultimately, an unbiased and transparent mediation SDK is the true game-changer.
Don't let black boxes hinder your success. Embrace transparency to unlock the full potential of your monetization strategy. It might end up being worth substantial revenue gains.